We perform several cosmetic dental procedures at our office in Lynnwood that will help you improve the look and function of your teeth. Read on for descriptions of some of our most common procedures, and schedule an appointment with your dentist to learn more.
Porcelain Veneers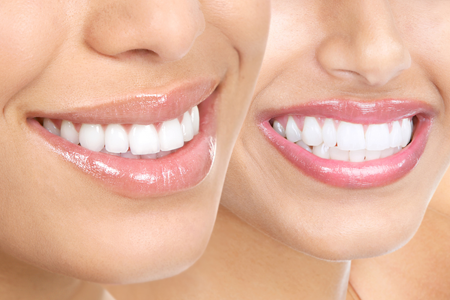 Porcelain veneers are handcrafted, custom-made, thin shells of dental porcelain placed on your front teeth. They are stain resistant and custom-tinted to blend with surrounding teeth. Veneers can dramatically transform your smile by correcting flaws like:
Chips
Cracks
Gaps
Misalignment
Misshapenness
Stains

How we can help: Your dentist will meet with you in a consultation to discuss your ideal smile and then create a custom design for your porcelain veneers. He will then secure temporary veneers to your teeth while a ceramist fabricates your one-of-a-kind restorations in our Spokane dental lab. Once the veneers are ready, you'll return to our office so the dentist can remove your temporaries and place the final veneers.
Cosmetic Bonding
Chips, stains, gaps, and cracks on your front teeth can easily detract from an otherwise attractive appearance. But if you're hesitant about investing in dental veneers, consider cosmetic bonding instead. Although bonding doesn't last as long as veneers, it is generally faster and less expensive than bonding. Plus, like veneers, bonding resists stains, so it holds its natural-looking color.
Cosmetic Dental Bonding is a dentistry technique that is a quick and painless way to repair a cracked tooth, a chipped tooth or other types of superficial damage to your teeth. This cosmetic dental procedure uses a composite material that is selected to match the color of your natural teeth. We lightly scuff the surface of your teeth and paint on the composite resin. The resin is hand-shaped to mask imperfections and fit seamlessly with surrounding teeth before being hardened with a powerful LED curing light. For a new smile with near perfect teeth that will last for years, call Englund & DesRoches today!
How we can help: We use the same custom-tinted, liquid resin used for white fillings for the procedure. Once he or she has prepared your tooth or teeth, your dentist will tint the resin to blend with the existing tooth enamel and apply it as needed. A soft light will then harden the substance, and your dentist will sculpt and polish the newly shaped tooth so it looks completely natural.
Cosmetic Orthodontics
You may associate braces with middle school or high school students, but more adults than ever are turning to orthodontics to improve their bite and reposition their teeth for cosmetic reasons. Modern braces can be made from clear or tooth-colored structures, and some dentists offer clear, removable aligners.
How we can help: Depending on your needs, your dentist may recommend functional orthodontics, as well as cosmetic orthodontics, to reposition your teeth to enhance your appearance. Traditional braces involve brackets glued to your teeth and a wire that gently forces the teeth into proper alignment. Clear braces can refer to clear brackets and wires or completely acrylic aligners, much like a retainer, that move teeth. Your dentist will recommend the best solution for your teeth and lifestyle.

Teeth Whitening
When performed in office, teeth whitening, or bleaching, is quite effective. Your dentist can administer a higher concentration of whitening solution than over-the-counter systems, so the results are more significant. We offer several types of teeth whitening procedures at our North Spokane dental office. Your dentist will help you determine the best solution for your unique lifestyle and goals.